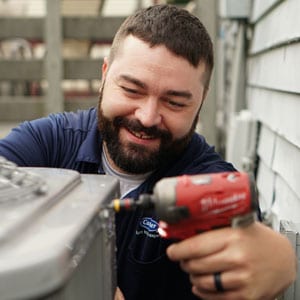 Heat Pump Maintenance Services in Upper Arlington, OH
Protect Your Home Investment.
Over the seasons of usage, our heat pumps survive outside in the most extreme of Ohio's weather. When Mother Nature serves us another bone-chilling cold winter here in Franklin County, homeowners rely on their heat pumps year-round for relief. To guarantee these systems sustain their peak performance, and to help in saving money and prolonging their lifespans, there is absolutely no substitute for consistent preventative maintenance from a local certified HVAC technician.
If you're ready for seasonal maintenance on your heat pump this year, Upper Arlington Heating & Air has got you covered. We offer emergency heating repairs. Our expert technicians are prompt and friendly. No matter the issue you're facing, we pledge to find a solution for you. 
An air-source heat pump uses advanced technology and the refrigeration cycle to heat and cool your home. This allows a heat pump to provide year-round indoor comfort – no matter what the season is. Heat pumps are trending upwards in residential areas. 
A typical air-source heat pump system is a split or two-part system that uses electricity as its power source. The system contains an outdoor unit that looks similar to an air conditioner and an indoor air handler. The heat pump works in conjunction with the air handler to distribute the warm or cool air to interior spaces. In addition to the electrical components and a fan, a heat pump system includes many parts.
How Does a Heat Pump Heat My Home?
A heat pump can switch from air condition mode to heat mode by reversing the refrigeration cycle, making the outside coil function as the evaporator and the indoor coil as the condenser. The refrigerant flows through a closed system of lines between the outdoor and the indoor unit. Air from the inside of your house is pulled into ductwork by a motorized fan. The refrigerant is pumped from the interior coil to the exterior coil, where it absorbs the heat from the air. This warmed air is then pushed through connecting ducts to air vents throughout the home, increasing the interior temperature. The refrigeration cycle continues again, providing a consistent method to keep you warm.
3 Benefits of Heat Pump Maintenance
What makes heat pump and heating system maintenance such a big enough deal that all the experts stress it to be done before every season? Here are a few of the most beneficial reasons to maintain your heat pump system every year: 
Prolong the lifespan
Preventative maintenance tasks such as cleaning coils, recharging refrigerant levels, and replacing air filters will not only make your unit last longer, it'll also run more efficiently.
Keep Your Warranty Valid
When you get a new heat pump installed, most manufacturers will require you to get regular maintenance performed by a certified professional to keep the warranty valid. If you fail to do so and skimp out on maintenance service for even a single season, the warranty becomes worthless.
avoid unexpected repairs
A bulk of repairs done on heat pumps can be linked to inadequate maintenance. This is why having maintenance done on schedule prevents the vast majority of the repairs a homeowner will otherwise have to deal with.
Long-Term Savings On Your Heating Bill
After each season of usage, a heat pump develops wear and tear from the strain of operating, while it also begins to collect dust and dirt build-up. This wears down on their efficiency, as they need more power than before to operate at the same level. A cared-for system runs at its best, and shares that love right back in lower heating costs. 
According to the Department of Energy, old systems have an AFUE rating (the ratio of heat generated compared to the amount of fuel required) of about 56% to 70%. Newer, high-efficiency heating systems can convert over 90% of the energy used into heat using condensed flue gases for less wasted energy.
Upper Arlington Heating & Air
Choose Upper Arlington Heating & Air for your HVAC needs in Upper Arlington, OH. We strive to make every customer interaction one to remember, and satisfaction is guaranteed each and every time. No matter the issue you're facing, we pledge to find a solution.

24/7 Emergency Availability
Weekends, late nights, and even holidays — we're available around the clock for HVAC emergencies.

Certified Technicians
Our technicians are NATE-Certified, friendly, and highly-skilled, with years of industry experience.

100% Satisfaction Guarantee
Our job's not finished until you are 100% satisfied with our services.
HVAC Financing Has Never Been Easier.
If you're looking for some financial assistance in upgrading your home's HVAC system, or if you need help covering the cost of repairs, we encourage you to consider our financing options. Upper Arlington Heating & Air has great plans available to all our customers who might need a little more time to pay. We also offer special online offers on our HVAC services in Upper Arlington, OH.
Our technicians arrive at your home in one of our fully stocked, state-of-the-art service vehicles, equipped with all the latest in HVAC technology. We come prepared to repair or replace anything that could possibly surface, including pilot lights, ignitors, fuses, breakers, heat exchangers, burners, heat strips, switches, blowers, valves, air filters, control boards, and much more.