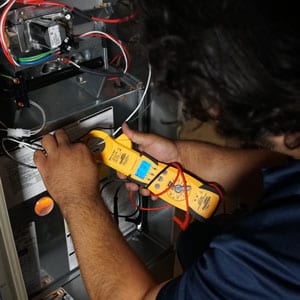 Furnace Maintenance Services in Upper Arlington, OH
Protect Your Home Investment.
At Upper Arlington Heating & Air, we recommend homeowners get their heating system checked by a professional before the start of every cold season. HVAC systems are expensive, and maintenance is the best way to protect your investment. We'll always be here when you need furnace repair, but why not avoid unexpected, costly repairs by scheduling a quick & easy tune-up?
If you're ready for seasonal maintenance on your furnace this year, Upper Arlington Heating & Air has got you covered. We offer emergency furnace repairs. Our expert technicians are prompt and friendly. No matter the issue you're facing, we pledge to find a solution for you. 
3 Benefits of Furnace Maintenance
What makes furnace and heating system maintenance such a big enough deal that all the experts stress it to be done before every season? Here are a few of the most beneficial reasons to maintenance your heating system every year: 
Safety
Most furnaces are powered by natural gas. During a furnace maintenance inspection, our certified technicians will look at your gas line and heat exchanger to determine if there's any carbon monoxide leakage. If we detect anything unusual, we'll alert you, and discuss your options. Furnaces or heat systems that utilize natural gas are far more unpredictable and dangerous when they aren't being inspected according to schedule.
Keep Your Warranty Valid
When you get a new furnace installed, most manufacturers will require you to get regular maintenance performed by a certified professional to keep the warranty valid. If you fail to do so and skimp out on maintenance service for even a single season, the warranty becomes worthless.
avoid unexpected repairs
A bulk of repairs done on furnace breakdowns can be linked to inadequate maintenance. This is why having maintenance done on schedule prevents the vast majority of the repairs a homeowner will otherwise have to deal with.
Long-Term Savings On Your Heating Bill
After each season of usage, a furnace develops wear and tear from the strain of operating, while it also begins to collect dust and dirt build-up. This wears down on their efficiency, as they need more power than before to operate at the same level. A cared-for system runs at its best, and shares that love right back in lower heating costs. 
According to the Department of Energy, old systems have an AFUE rating (the ratio of heat generated compared to the amount of fuel required) of about 56% to 70%. Newer, high-efficiency heating systems can convert over 90% of the energy used into heat using condensed flue gases for less wasted energy.
Upper Arlington Heating & Air
Choose Upper Arlington Heating & Air for your HVAC needs in Upper Arlington, OH. We strive to make every customer interaction one to remember, and satisfaction is guaranteed each and every time. No matter the issue you're facing, we pledge to find a solution.

24/7 Emergency Availability
Weekends, late nights, and even holidays — we're available around the clock for HVAC emergencies.

Certified Technicians
Our technicians are NATE-Certified, friendly, and highly-skilled, with years of industry experience.

100% Satisfaction Guarantee
Our job's not finished until you are 100% satisfied with our services.
HVAC Financing Has Never Been Easier.
If you're looking for some financial assistance in upgrading your home's HVAC system, or if you need help covering the cost of repairs, we encourage you to consider our financing options.  We also offer special online offers on our HVAC services in Upper Arlington, OH.
Our technicians arrive at your home in one of our fully stocked, state-of-the-art service vehicles, equipped with all the latest in HVAC technology. We come prepared to repair or replace anything that could possibly surface, including pilot lights, ignitors, fuses, breakers, heat exchangers, burners, heat strips, switches, blowers, valves, air filters, control boards, and much more.