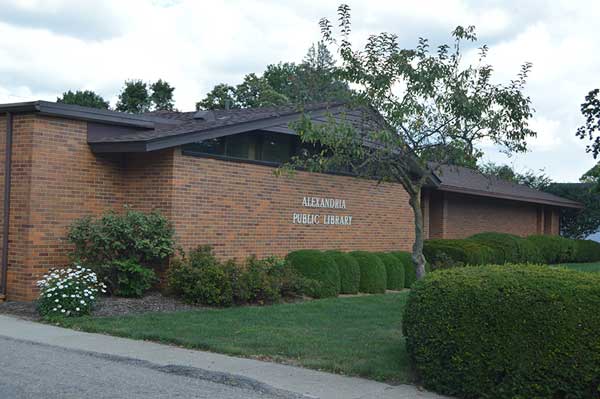 We're Proud to Serve Alexandria, OH
If you're looking for Heating, Cooling, or Indoor Air Quality services in Alexandria, OH, trust the experts at Upper Arlington Heating & Air. We specialize in the repair, maintenance, and installation of furnace, heat pumps, air conditioners, and more. We service all brands and types of HVAC equipment in Alexandria, OH. We look forward to providing you with a trusted HVAC solution. Give us a call today!
Located in Licking County, the central Ohio Village of Alexandria has a population of about 542 people. Alexandria was laid out in 1830. In May of 2018, village residents decided against becoming a part of St. Albans Township by a vote of 92 percent against. The father of dentistry, Mr. Willoughby Miller, is from Alexandria. This village also has a rich history to include the sheltering of many escaped slaves, who were on their way to freedom in the Underground Railroad.
Located in the village, the residents of Alexandria are served by the Alexandria Public Library. The Lobdell Reserve, Fireman's Park, the Fritz Drumm Field of Dreams, and Parker Community Park are all located in or very near the village. 
Visitors should check out the Alexandria Museum, which is a small house located right in the center of the Village of Alexandria.  Their museum is entirely volunteer operated by the Villages Board of Museum Trustees.  Currently, they have a collection of woodcarvings by a Muskingham man, which was donated by a family member who lives in Alexandria.  Amongst other things, some items dating back to the late 1800s, as well as a large prehistoric collection of stone tools.
Upper Arlington Heating & Cooling is happy to serve the residents of Alexandria with the best local HVAC products and services at the most competitive rates in the area. We're the preferred local HVAC contractor of choice in the Franklin County and Central Ohio area for heating and cooling services.
We offer same-day emergency services for cooling and heating equipment, 24 hours a day, 7 days a week, including weekends and holidays! Furthermore, we offer professional installation for those needing a new air conditioning system, heat pump, or furnace in Alexandria.
We're also excited to offer Alexandria residents our year-round Service Maintenance Agreements if you're looking to get the most from your air conditioning system, heating system, furnace, or any other HVAC system with preventative maintenance, which should be done every year to keep your manufacturer's warranties in good standing.
Local Reviews
for Alexandria, OH
Five Star Heating & Cooling Group
Rated
5.0
out of 5 stars based on
6
customer reviews
Powered by Nearby Now
---
Great Service
Larry

-

Alexandria

,

OH



Review of Five Star Heating & Cooling Group
Always on time,courteous,and knowledgeable.They are the only hvac company we use.
---
James checking system
Roger

-

Alexandria

,

OH



Review of Five Star Heating & Cooling Group
Professional team
---
Professional, dependable great service!
Roger

-

Alexandria

,

OH



Review of Five Star Heating & Cooling Group
We have had a maintenance or service plan with Pickerington heating and cooling for a number of years and at two homes. We have always been very very happy with all of their work. Recently we have a new heating and cooling system installed. The price was awesome and the installers were pleasant and professional. All around a pleasure to have in our home! The new system is fantastic, we are very pleased. We also had all of our duct work cleaned and that crew was very nice too, they even happily moved furniture and were very careful!
---
Dependable- great service - awesome price
Roger & Mary

-

Alexandria

,

OH



Review of Five Star Heating & Cooling Group
We have been with this company for about 8 years and they just get better and better, and they were great to start with. We renew a service agreement every year and when we need them they come that day. There are lots of perks that save you money with the service. Now we have having them install a new furnace and air and the price was unbelievable and within our budget. We have no doubt we will be completely satisfied, they always make everything right!
---
Great, dependable guys!
MaryBeth

-

Alexandria

,

OH



Review of Five Star Heating & Cooling Group
Used this company for years & have yearly maintenance agreements. In any emergency they come immediately!
---
Great,fast service
Lawrence

-

Alexandria

,

OH



Review of Five Star Heating & Cooling Group
I called on a Saturday morning,and the tech was here that afternoon.He was courteous,knowledgeable,and had my central air running in 20 minutes.Noah was great.
---
Clayton S.
67898722
Near
Castle Rd,

Alexandria

,

OH

43001
Dale J.
160728
Near
Wesleyan Church Rd,

Alexandria

,

OH

43001
Brody W.
I came out to do a leak search for customer. I was unable to find a leak in this system. Upon checking the charge, I found the unit was operating properly still from when the unit was previously charged for temporary cooling. System is operating properly at this time.
Near
Stonesthrow Ct,

Alexandria

,

OH

43001
Fred N.
Installed new high limit switch and system is heating as it should.
Near
Northridge Rd,

Alexandria

,

OH

43001
Fred N.
They have heat, We need to order a high limit switch for their furnace. She will be gone on business but she has authorized me coming whenever we get the part with out a phone call. Paid in full.
Near
Northridge Rd,

Alexandria

,

OH

43001
Blake T.
completed full install of an Five Star 96% 2-Stage 80,000 BTU Up-Flow Gas Furnace and Five Star 16 SEER 3 Ton Heat Pump Price includes new Furnace, thermostat, required venting, required electrical, required gas piping, required duct adjustment, removal of old equipment, tax and installation complete. also a 10 year warranty on parts and a 5 year warranty on labor
Near
Northridge Rd,

Alexandria

,

OH

43001
Fred N.
Diagnostic Service Call. Went out to find furnace overheating due to dirty filter. Remove filter and still did for inspection. Found multiple cleanliness issues, and signs of corrosion on heat exchanger. Went over options for cleaning system and advise due to the age there is no promise reliability with that old of a furnace. Due to cost of repairs to possibly have other issues they decided to look into system replacement and decided to move forward with a full dual fuel system replacement.
Near
Northridge Rd,

Alexandria

,

OH

43001
Blake T.
Upon arrival I completed a Half Install of a Five Star 80% Gas Furnace FSGMES80/FSGCES80 (Up to 100,000 BTU) Price includes removal of old equipment, complete install of new furnace and thermostat (including necessary venting, electrical gas connections, duct adjustments) and tax. The system is operational upon departure.
Near
Outville Rd,

Alexandria

,

OH

43001
Cory C.
Upon arrival I completed diagnostics and found the thermostat reading 75º but the room was only 72º. Removed offset, thermostat now reading the same temp as the room temp. Checked programming on the thermostat, programming is good. I removed zone damper to make sure the damper was fully shutting, damper operation is good at this time. The system is operational upon departure. Goodman
Near
Stonesthrow Ct,

Alexandria

,

OH

43001