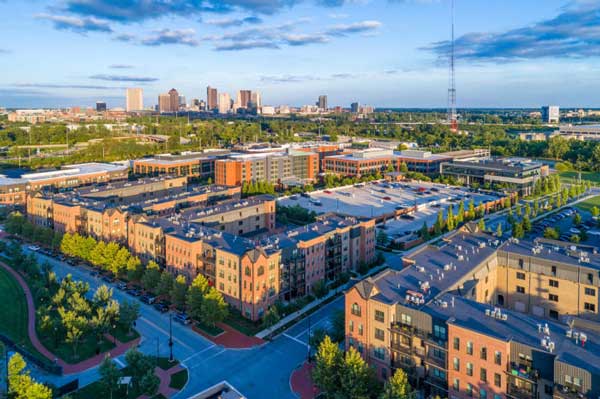 We're Proud to Serve Grandview Heights, OH
If you're looking for Heating, Cooling, or Indoor Air Quality Services in Grandview Heights, OH, trust the experts at Upper Arlington Heating & Air. We specialize in the repair, maintenance, and installation of furnace, heat pumps, air conditioners, and more. We service all brands and types of HVAC equipment in Grandview Heights, OH. We look forward to providing you with a trusted HVAC solution. Give us a call today!
Located in Franklin County, the City of Grandview Heights has a population of about 6,536 residents. Formerly a part of Marble Cliff, the city is one of the first suburban communities of the City of Columbus. It was first settled in 1890. However, it was later incorporated as the "Hamlet of Marble Cliff" in 1901. In 1906, Grandview Heights became its own village. Then, in 1931, it became a city.
With a total land area of 1.33 miles, Grandview Heights has its own police and fire departments in addition to its own independent school district. The city's neighboring community, Marble Cliff, has an agreement with Grandview Heights to provide these services to its residents as well.
Grandview Heights is conveniently located near most of central Ohio's major conduits. It's located a few minutes from Downtown Columbus, Ohio Stadium, the Columbus Museum of Art,  the Greater Columbus Convention Center, Huntington Park, COSI, and Columbus' Arena District.
Having said that, visitors need not go far to satisfy cravings for local flavor. Within the city limits, Grandview Heights has a wide selection of local dining, shopping, coffee, and craft beer.
Upper Arlington Heating & Cooling is happy to serve the residents of Grandview Heights, OH with the best local HVAC products and services at the most competitive rates in the area. We're the preferred local HVAC contractor of choice in the Franklin County and Central Ohio area for heating and cooling services.
We offer same-day emergency services for cooling and heating equipment, 24 hours a day, 7 days a week, including weekends and holidays! Furthermore, we offer professional installation for those needing a new air conditioning system, heat pump, or furnace in Grandview Heights.
We're also excited to offer Grandview Heights residents our year-round Service Maintenance Agreements if you're looking to get the most from your air conditioning system, heating system, furnace, or any other HVAC system with preventative maintenance, which should be done every year to keep your manufacturer's warranties in good standing.
Local Reviews
for Grandview Heights, OH
Powered by Nearby Now
---
Chad M.
168892
Near

Northwest Blvd,

Grandview Heights

,

OH

43212
Tony C.
Performed a diagnostic service call for a 2018 AC unit. Upon arrival, the tenant informed us that the unit froze up on them. We went out to the furnace and checked the coil. Coil was clean. No debris, no ice. Checked filter and found that current filter was dirty.
Near

Haines Ave,

Grandview Heights

,

OH

43212
Chad M.
Performed a diagnostic service call for a 2006 AC unit. Performed a diagnostic on a.c not working properly. Unit was installed by us in 2019. Found unit running with a high suction pressure. Found issue to be that's the unit is using a 3m filtrates purple. Which is 110% clogged.
Near

Haines Ave,

Grandview Heights

,

OH

43212
Noah B.
Performed a diagnostic service call for a 2018 ac unit. Tenant complaint is turbulent airflow noise in cooling mode. Cold air is heavier and requires higher fan speeds. Noise is accentuated by close proximity of return vent register to trunk and drop, next to tv in sitting room.
Near

Haines Ave,

Grandview Heights

,

OH

43212