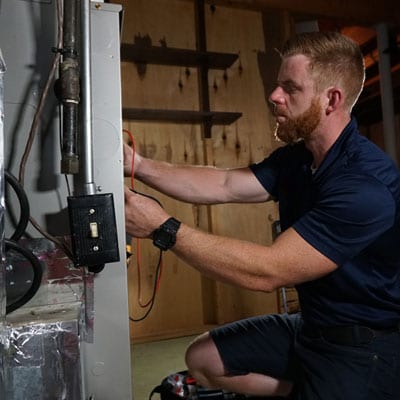 Furnace Repair Services in Upper Arlington, OH
Is your furnace or home heating system non-functioning, or beginning to show signs of old age? Whether you wake up to a cold home, come home after a long day of work only to realize the furnace is out, or you go to turn up the thermostat and get no response from the system — when the heat goes out during the winter it can seem like an absolute nightmare. 
But take comfort in times like these: If problems with your furnace arise, Upper Arlington Heating & Air is always available to help — we're always a phone call away. We offer emergency furnace repairs. Our expert technicians are prompt and friendly. No matter the issue you're facing, we pledge to find a solution for you. 
Schedule a Diagnostic HVAC Service Call Today!
Not sure what's wrong with your heating system? Don't get stuck in the cold. Let our skilled technicians perform a Service Call. We'll run tests and determine what's going on with your system.
3 Signs You May Need Furnace Repair
There are a number of reasons you might need furnace repair. However, some symptoms are easier to spot than others. Here are a few of the most common: 
Clogged Air filters
If your air filters are dirty or clogged, your furnace will have to work harder to compensate for the decreased airflow. In which case, not only can unclean air filters increase your energy consumption and power costs, but a clogged filter can also damage your furnace's limit switch, which controls the fan.
Malfunctioning pilot light
If your pilot light isn't working — or if your ignition is faulty — it will typically prevent your furnace from starting at all. Your pilot light might fail if there are drafts or clogs in your furnace.
old age
Unfortunately, every furnace reaches retirement eventually. If your furnace has simply reached the end of its life cycle, we can set you up with a brand new, energy-efficient unit from a trusted manufacturer. 
Should I Repair or Replace My Furnace?
It's a common question we get from homeowners, new and old: "Should I repair or replace my furnace?" There are many factors to consider when making this decision. Here are a few reasons to lean toward repairing your furnace over replacing it.
Age of Unit – The average lifespan of a furnace is 15-20 years. If your furnace is less than 10 years old, we recommend looking into repair. We also highly recommend keeping up with routine maintenance to keep the warranty in good standing, some repairs may be covered under certain manufacturer warranties. 
History of Repairs – Consider the amount you've spent on repairs since owning the unit. If the cost of repair is less than 50% of the cost of replacement, we recommend repairing your system. But keep in mind other factors like age, efficiency, etc.
Unit is in Good Shape – If your furnace is showing symptoms of an issue (i.e. strange noises, odors, etc.) we recommend scheduling a service call to determine whether it's fixable, or time for a replacement. If we determine your furnace simply needs to be repaired, we won't even try to sell you on a new system!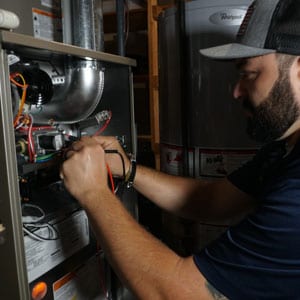 Are You Experiencing a
Heating Emergency?
Imagine this: It's a freezing winter evening. You've just realized your heating system is down. You want to call a professional for repair, but it's a late weekend after business hours. At Upper Arlington Heating & Air, we make cases like these our priority. We'll quickly find a solution for you and get you back to comfort. We advise you to call us right away if you're experiencing an HVAC emergency, no matter the time of day! (614) 490-7507
Check these few things before giving us a call:
Check to make sure unit has power.
verify your air filter isn't clogged.
check thermostat batteries.
check for Tripped Circuits or Blown Fuses.
No matter the type
Our top-notch team of technicians at Upper Arlington Heating & Air can work on all types of furnaces and heating equipment, as well as any parts connected or used in conjunction with any HVAC system. This includes electric furnaces and heaters, gas furnaces, heat pumps, air handlers, ductless mini-split, and zoned systems, and all other types of heating system products.
No Matter the brand
We service all brands of heating equipment and HVAC systems, including leading brands like Carrier, Coleman, Trane, Amana, Frigidaire, Comfortmaker, Bryant, Goodman, Maytag, Lennox, Rheem, Tempstar, and more. No matter what brand of heating system you have in your home, regardless of how old or rare it is, we are the right team to call for help.
Upper Arlington Heating & Air
Choose Upper Arlington Heating & Air for your HVAC needs in Upper Arlington, OH. We strive to make every customer interaction one to remember, and satisfaction is guaranteed each and every time. No matter the issue you're facing, we pledge to find a solution.

24/7 Emergency Availability
Weekends, late nights, and even holidays — we're available around the clock for HVAC emergencies.

Certified Technicians
Our technicians are NATE-Certified, friendly, and highly-skilled, with years of industry experience.

100% Satisfaction Guarantee
Our job's not finished until you are 100% satisfied with our services.
HVAC Financing Has Never Been Easier.
If you're looking for some financial assistance in upgrading your home's HVAC system, or if you need help covering the cost of repairs, we encourage you to consider our financing options.  We also offer special online offers on our HVAC services in Upper Arlington, OH.
Our technicians arrive at your home in one of our fully stocked, state-of-the-art service vehicles, equipped with all the latest in HVAC technology. We come prepared to repair or replace anything that could possibly surface, including pilot lights, ignitors, fuses, breakers, heat exchangers, burners, heat strips, switches, blowers, valves, air filters, control boards, and much more.